Honda Accord Lease near San Juan Capistrano CA

When you're looking to add some style and an energetic performance to your travels around San Juan Capistrano, there are a lot of sedans out there—but the Honda Accord ranks rather high in driver satisfaction, so chances are, it's toward the top of your list, too.
If you're in need of a new set of wheels, but you don't feel that buying one is right for you at this time, you've got other options! You can find a Honda Accord lease near San Juan Capistrano!
Honda Accord Specs & Features
If you plan on leasing a Honda Accord, it helps to get a strong understanding of what it can provide for your experiences on the road. The Accord offers a range of performance with its three engine options. There's the 1.5L turbo, which boasts 192 horsepower and 192 lb-ft of torque, or you can opt for the 2.0L Turbo 4-cylinder with its 252 horsepower and 273 lb-ft of torque.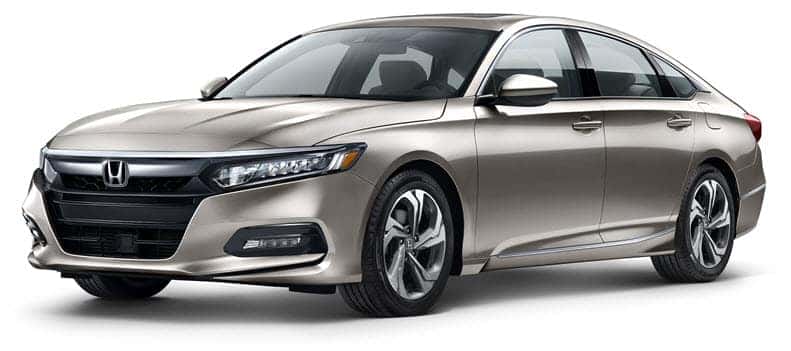 The Accord also offers a 2.0L hybrid 4-cylinder engine, which can produce a combined 212 horsepower. Each engine comes paired with a direct and efficient Continuously Variable Transmission.
The interior of the Accord offers some rather sophisticated features and technology. There's the 7-inch display screen that allows you to access your entertainment. The higher trims add an 8-inch high-resolution touchscreen and Apple CarPlay®/Android Auto™. These features integrate your smartphone into the vehicle's dashboard display.
The Accord also includes Honda Sensing® Safety and Driver-Assistive Technologies. These features use exterior-mounted sensors to measure the speed of your vehicle with the distance from the object ahead to predict impending collisions or lane departures. The Accord includes Lane Keeping Assist, Collision Mitigation Braking System™, Adaptive Cruise Control, and more!
Researching the Honda Accord

If you're truly interested in leasing a Honda Accord, you'll want to check out some of our helpful resources that we have available. Our Honda Accord reviews will give you more details, like the ones found above, as well as more insight into what the vehicle offers and what its features can do.
You can also learn more about what the Accord offers compared to similar models from other manufacturers. Our Honda Accord comparisons will give you details on the competitive specs, features, styles, and more so you can really see what each vehicle offers and which one is a better fit for you!
Lastly, since there are numerous versions of the Accord, how can you tell which one you want to lease? Our Honda Accord trim level comparisons can help! These guides break down each version of the Accord to show you the upgraded features, styles engines, technology, and more. You can even learn about available packages and options! These guides cover the Honda Accord Sport, LX, EX, and more!
By checking out our Honda Accord resources, you'll become an expert for when it's time to get behind the wheel and schedule your test drive. That way, you'll know what to look for when you're in the driver's seat deciding if it's the right sedan for you to lease.
Browsing the Honda Accord Selection

When you're ready to delve in and explore your options, you can always make the trip to our Honda Accord dealership near SJC to start looking around. However, you can also get started on your journey right now. By heading to our website and browsing our online inventory, you'll be able to get a clear glimpse at your favorite models.
Using the filters can help you narrow down the right Accord for you. You can search by color, engine, and more so all of your important needs for your vehicle will be easily accessible. Finding your Honda Accord lease near SJC has never been easier!
Leasing a Honda Accord

If you're leaning toward leasing a Honda Accord, it helps to get a sense of what you can expect from the Honda lease process. Leasing differs from buying because you're simply renting the vehicle for a few years rather than buying it. You may even have lower monthly payments when you lease rather than when you purchase and finance the vehicle, which will result in higher monthly payments.
There are quite a few things to learn with the Honda Accord lease vs. buy debate. While leasing doesn't result in ownership, it does give you a set of wheels to rely on for a few years. However, when you buy, the Accord is yours until you're ready to move on and sell it, or trade it in for your next car. Then you can move onto your next car.
But when you own, there's a lot of responsibility involved because it's your vehicle and you'll want to keep it in great shape. However, as the owner, you'll take on the depreciation value. When you lease, you don't have to worry about that because you don't own the car.
Another major benefit with a Honda Accord lease is that most maintenance is covered under warranty for the duration of your lease term. You can relax while driving around SJC, knowing that you're covered should your vehicle require maintenance.
The End of Your Honda Accord Lease Term
If you decide to lease an Accord, it helps to know how to proceed once you reach the final stage of your lease. When the lease term comes to an end, you'll have a few options. You can simply turn in your lease and walk away, or you can actually buy the vehicle out of the lease. That way, you can continue your fun adventures behind the wheel long after your lease term is up.
Of course, you also have the option to update your vehicle and lease an entirely new Honda model! That way, you can stay up to date on the latest vehicle style, technology, features, and engineering. You'll be current with your vehicle for the next few years.
Are you ready to get started with the Honda Accord lease process? Start by scheduling a test drive with us at Norm Reeves Honda Superstore Irvine so you can see how the Accord will perform on the streets of San Juan Capistrano. Come see us to learn about the Honda Accord lease deals!
Additional Info: