---
The Online Car Buying Process
Below, we'll walk you through the steps with finding your car, financing it, picking out your options, and more. These tips will help you get a better handle on your online car buying.
Step 1: Browse and Select
Upon reviewing our online inventory, you'll come across some models that pique your interests. Simply select the vehicle that best suits your style and needs, and keep in mind the specific trim level that you're interested in along with the style, engine, and features you want in your next car.
Step 2: Get the Price
You'll have access to your vehicle's price instantly, and you'll be able to figure out your down payment as well as the payment options. We even have a live concierge who can communicate with you directly to answer all of your questions.
Step 3: Plan Out Your Deal
This step requires you to pick the deal you want. You'll get a brief description of your auto loans and the varying terms and conditions so you can determine what's best suited for your lifestyle.
Step 4: Value Your Trade
If you've already got a vehicle that you're willing to trade, this tool will help you get started on the process. By inputting the vehicle make, model, year, mileage, and condition, you'll get an estimate of what your vehicle is worth and how much can be applied as the down payment.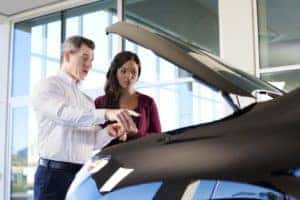 Step 5: Consider Service & Maintenance Plans
During this stage, you'll be able to see the optional extended warranties and service plans that are available to you and your vehicle. Select from a list and put a protection plan in place to make sure your vehicle is receiving the best care throughout your ownership.
Step 6: Customize & Accessorize
This step gives you a list of optional add-ons and packages that you may want to include with your vehicle. Whether it's updated technology, more luxurious upholstery, or additional features, this is the step to add those to your vehicle.
Step 7: Complete the Deal
Once everything is in place and you've selected everything you want with your vehicle, you'll finalize the deal and complete the online car-buying process.
Step 8: Getting Your Vehicle
You have a few options here to consider. You can always schedule a pickup and head to our dealership to get the keys and paperwork. Of course, you can take full advantage of the online car-buying process and have your vehicle delivered!