2020 Honda Accord vs Toyota Camry

Midsize sedan shoppers near Santa Ana, Mission Viejo, and Tustin likely already have the 2020 Honda Accord and Toyota Camry on their shortlist of new cars to consider.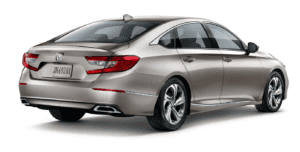 They're both great vehicles, delivering top-of-the-line performances, spacious and comfortable interiors, and high-tech features that are sure to delight commuters and travelers alike.
The question to ask now is: Will the Accord or Camry best meet my needs?
Our team at Norm Reeves Honda Superstore Irvine has created this in-depth Honda Accord vs. Toyota Camry comparison to help you find out. Read on as we explore all the features that these cars offer. Then, reach out to let us know which one is perfect for you!
Driver-Assisting Features & Smart Safety Technologies
Every modern driver knows the value of high-tech and convenient driver-assisting features. These systems are uniquely designed to help you reach your destination with added safety, awareness, and confidence.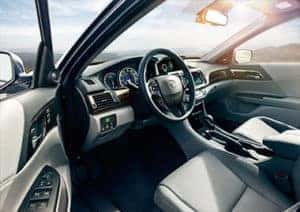 That's why we're thrilled that both the Honda Accord and Toyota Camry come standard with several driver-assisting systems, such as:
Forward collision mitigation
Lane keeping and road departure alerts
Multi-angle camera
One neat feature that the Accord has standard is called Traffic Sign Recognition. It keeps you updated on the rules of the road by displaying important road sign information onto your driver dashboard.
Without a similar feature, drivers in the Camry may find themselves less aware of speed limits and other information.
Otherwise, both sedans are equipped with convenient features like:
Automatic high beams
Smart cruise control

Automatic high beams automatically toggle your high beams on and off when they detect oncoming cars or traffic lights. With this feature, you can stay focused on navigating along dark backroads instead of continuously adjusting your headlights.
Smart cruise control, on the other hand, can help reduce fatigue during highway driving by automatically adjusting your cruise control speed to go with the flow when you approach slower-moving or stopped traffic.
Interior Dimensions: Inside the Cabins of the Accord & Camry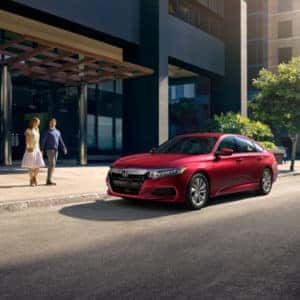 Next, let's look at the cabins of these two popular sedans. When we open the front door of either car, we'll find a roomy interior with plenty of comfort features. Both the Honda Accord and Toyota Camry accommodate five passengers across their two rows of seats.
One thing we noticed is that the Accord offers a slightly larger interior than the Camry. You can check out the numbers in the table below.
| | | |
| --- | --- | --- |
| | 2020 Honda Accord | 2020 Toyota Camry |
| Passenger volume | 105.6 cubic feet | 100.4 cubic feet |
| Front-seat legroom | 42.3 inches | 42.1 inches |
| Rear-seat legroom | 40.4 inches | 38 inches |
| Trunk volume | 16.7 cubic feet | 14.1 or 15.1 cubic feet |
As you can see, the additional 5.2 cubic feet of passenger volume in the Honda Accord allows it to give rear-seat passengers a bit more space to stretch out. In fact, rear-seat passengers in the Accord get an additional 2.4 inches of legroom than those in the Camry.
Since the Toyota Camry offers back-row riders less legroom, they may feel a bit more cramped during longer drives than those in the Honda Accord.

Plus, the Accord offers a larger trunk space—16.7 cubic feet of cargo volume, to be exact. The Camry, on the other hand, offers a minimum of 14.1 cubic feet or a maximum of 15.1 cubic feet of trunk volume.
This means that drivers may be able to pack heavier in the Accord, while those in the Camry may find themselves having to leave a few things behind.
As for comfort features, you'll have plenty of those in both sedans. Ventilated seats, for example, are available in both vehicles, and can help you cool off after a long day on the beach. They also both have a multi-way power-adjustable driver's seat with power lumbar support.
The available driver's seat in the Accord can adjust up to 12 ways, while the driver's seat in the Camry can adjust up to eight ways.
Sporty Powertrains & Engine Specs: Honda Accord vs Toyota Camry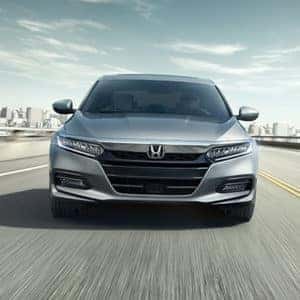 Finally, let's look under the hood of these two sporty sedans. True to their design, they both offer plenty of power, with engine options capable of producing more than 200 horsepower.
If you don't want that much kick, however, you may like the drivability of the standard engine from the Honda Accord:
1.5L turbo I-4
192 horsepower
192 lb-ft of torque
This is a great option for everyday drivers who prefer a more balanced engine for their daily commutes that still offers a thrilling, turbocharged performance.
The Camry, on the other hand, doesn't offer drivers the same level of choice in the kind of performance they get from their sedan.
As for the transmission, both cars come standard with an automatic transmission that provides smooth, even performance and nearly imperceptible gear shifts:
Honda Accord transmission options: CVT, 10-speed automatic, or 6-speed manual
Toyota Camry transmission options: 8-speed automatic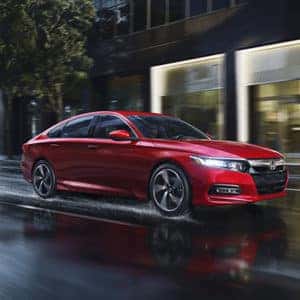 The Honda Accord equips its sedan with a continuously variable transmission (CVT) or a 10-speed automatic transmission, while the Camry just has an 8-speed automatic.
With only eight gears and set shift points, the Camry may not have the same level of performance optimization as the 10-speed automatic or CVT under the hood of the Accord.
Something unique to the Honda Accord is that it also makes a 6-speed manual transmission available on its Sport trim level. This is ideal for anyone who wants to take complete control of their driving experience.
Unfortunately, the Toyota Camry doesn't offer a manual transmission.
Will You Choose to Drive the 2020 Honda Accord or Toyota Camry?
After diving deep into how the 2020 Honda Accord and 2020 Toyota Camry stack up, we were impressed with what the Accord offers drivers around Santa Ana, Tustin, and Mission Viejo. If you want to see this popular sedan in action, contact the team at Norm Reeves Honda Superstore Irvine.
Our team will be happy to work with you one-on-one to go over all the features we mentioned here and tell you more about how they can fit into your lifestyle.
Contact us to test drive the Honda Accord today!