Honda Odyssey Dashboard Lights Irvine, CA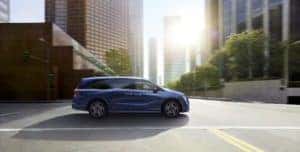 Welcome to your official 2018 Honda Odyssey dashboard light guide, where drivers from the Anaheim, Lake Forest, and Laguna Beach area can finally learn with those yellow "i" and green car key indicator lights mean.
Although many indicator lights are the same year after year, it's important to remember that for this article, we're looking at the 2018 Honda Odyssey. If you have any additional questions, contact our service department at Norm Reeves Honda Superstore Irvine.
Honda Odyssey Dashboard Lights
Some are red, some are yellow, some are green, and one is blue, but the dashboard lights in your Honda Odyssey all mean something different. Red lights usually signify a critical malfunction and should be inspected right away. On the other side of the spectrum, green and blue lights typically are used to signal basic vehicle information, such as an engaged turn signal.
Charging system (red): Simple enough, this light resembles a car battery with distinguishable negative and positive ends. It means that there may be a problem with the vehicle's charging system and should be inspected right away.
Forward Collision Warning (yellow): Unless you were familiar with the Forward Collision Warning system, this indicator could be somewhat mysterious. It's displayed as the letters FCW.
Immobilizer (green): This blinking car key signals an issue with the immobilizer. Try using another vehicle key and contact a Honda service technician to have the system inspected.
Lane Departure Warning (yellow): This is another three-letter mystery, unless, of course, you were already familiar with the Lane Departure Warning feature. An illuminated LDW signals that there may be a problem with the system.
Low brake fluid/brake system (red): If you see the word BRAKE, then you could have a serious problem on your hands. Before you call the mechanic, though, make sure that the parking brake is disengaged.
Low oil pressure (red): It's been a long time since we've seen an oil can that looks like a magic lamp, but that's still the symbol for this indicator light. Stop the vehicle as soon as you can do so safely and call a Honda technician.
Malfunction lamp/check engine light (yellow): Most people are familiar with this engine-shaped light, but in case you aren't, you should take it seriously. Have your Honda inspected as soon as you can by a professional technician.
Supplemental Restraint System (red): This is depicted as a seated passenger with an inflated airbag in front of them and wearing a seat belt. This indicator light means that there may be a problem and should be inspected as soon as possible.
System message indicator (yellow): That lowercase I inside a circle is trying to tell you that the system has sent you a message. You should check the message information display to see what information is being given.
Where's My Dashboard Light?
If you don't see the specific indicator light in this Honda Odyssey dashboard light guide that you're looking for, one of our professional service technicians can help. If you live in the Anaheim, Lake Forest, or Laguna Beach area, you can schedule a service appointment at Norm Reeves Honda Superstore Irvine. We'll be able to tell you if the light indicates a critical malfunction or some other warning.