Honda CR-V Dashboard Light Guide Irvine, CA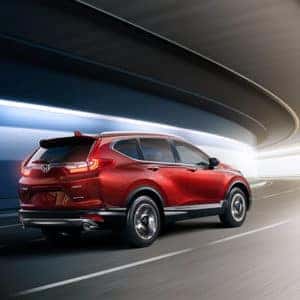 The dashboard lights of your Honda CR-V are more than twinkling signals. They're incredibly useful tools designed to keep you on top of the condition of your vehicle. They can warn you when it's time for a maintenance appointment, and they can let you know when certain parts are suffering.
With that said, understanding their meanings is vital to your vehicle's health. So to help you decode each symbol, here's the Honda CR-V dashboard light guide.
Malfunction Symbols
Malfunction indicators are the most critical symbols. Usually illuminated in red, these lights can alert you when important parts under the hood need to be repaired.
A few common malfunction lights include the following:
Battery: A car battery shining on your dash means the charging system needs repairs.
Brake: the word BRAKE indicates low brake fluid or a serious problem with the brake system.
Oil: When you see an oil can on your dashboard, it means the oil pressure is too low.
AWD: If this indicator blinks, your all-wheel drive system is inactive or overheating.
Engine: An engine block on your dash signals a problem with the powertrain.
Condition Lights
Condition lights are considered less imperative than malfunction lights. However, they may still require some form of action when they lights come on.
Condition lights include the following:
Doors and Tailgate: A red car with open doors means the doors of your CR-V are open or not fully closed.
Tires: An orange exclamation point inside a tire indicates low tire pressure.
Gas: If an orange fuel pump shows up on your dashboard, it means you need to fill up your tank ASAP.
Maintenance Minder: yellow wrench signals that it's time for a maintenance appointment.
Immobilizer: When a green key is blinking, the immobilizer is inactive and needs to be repaired.
On/Off Indicators
On/off indicators are common in every vehicle, including your Honda CR-V.
When these lights shine, they're merely letting you know the features below are in or out of use:
VSA: The letters VSA in orange means the Vehicle Stability System is off.
ECON: A green leaf is an alert that you're driving in ECON mode.
High Beams: This blue headlamp means your high beams are on.
Passenger Airbag: The words Passenger Airbag Off means it's deactivated.
Side Airbag: The words Side Airbag Off indicate these are off.
Though small, the dashboard lights in your Honda CR-V serve as the ultimate guide to your vehicle's well-being. It's important to know what each symbol means so you can act appropriately and give the care your CR-V needs if one comes on.
Here at Norm Reeves Honda Superstore Irvine, we strive to help all of our customers better understand the inner workings of their vehicles. So if you have any questions about the Honda CR-V dashboard light guide, visit our service department at 16 Auto Center Dr near Anaheim, Lake Forest, and Laguna Beach to learn more. Schedule your service conveniently online!