The 2020 Honda Civic vs Kia Forte

Trying to decide between the 2020 Honda Civic vs. Kia Forte? The best thing to do is compare and contrast the options to see their similarities, but more importantly, to take notice of their differences.
At Norm Reeves Honda Superstore Irvine, we're here to help drivers near Santa Ana, Tustin, and Mission Viejo when it's time to decide. Our Civic vs. Forte comparison will help you see how these vehicles differ so that you can decide on the one that's right for you!
2020 Civic vs 2020 Forte Engine Specs & Performance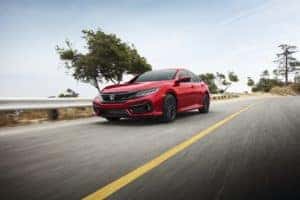 When it comes to deciding on the right sedan, engine performance is a pretty big factor. Both vehicles are equipped with respective 2.0L 4-cylinder engines under their hoods. Both engines come mated to a 6-speed manual transmission as well. The CR-V even offers an optional Continuously Variable Transmissions (CVT) while the Forte has an available Intelligent Variable Transmission.
In terms of the actual performance, the 2020 Civic leads in output with 158 horsepower and 138 lb-ft of torque. The Kia Forte, on the other hand, is limited to just 147 horsepower and 132 lb-ft of torque.
Driver-Assistive Technology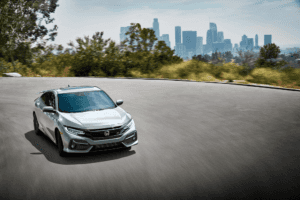 An added bonus is that both the 2020 Civic and Forte offer driver-assistance features at the base levels. These features work with exterior-mounted sensors that are used to measure the vehicle's speed along with the distance from the nearest object ahead. Based on the speed and proximity, your vehicle's systems can provide warnings to help you avoid a collision.
Both vehicles offer similar features. The Civic includes Forward Collision Warning and a Collision Mitigation Braking System™, while the Forte includes Forward Collision Warning and Forward Collision-Avoidance Assist. Both vehicles even include similar Lane Keeping Assist Systems to help drivers keep their vehicles in the intended lane.
However, a major difference here is that the Civic includes Adaptive Cruise Control as a standard feature. This feature allows you to set your cruising speed along with a distance from the vehicle ahead of you. The system will then automatically reduce the speed to compensate for the flow of traffic, all without you having to disengage the system or press the brake pedal.
Compact Sedan Style & Design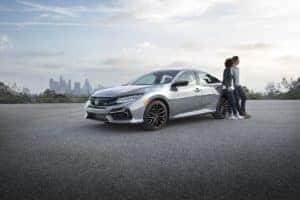 Each sedan has its own unique style in the compact sedan class. However, there are some notable design differences that could sway your overall decision. Inside, each car offers a variety of premium features and amenities. As far as space though, the 2020 Honda Civic comes with more room for you and your passengers. Inside its cabin, there is 97.8 cubic feet of passenger volume. The Kia Forte only has 96 cubic feet of interior volume.
Deciding on the 2020 Civic vs 2020 Forte
At Norm Reeves Honda Superstore Irvine, we hope that you found our Honda Civic vs. Kia Forte comparison helpful in showing you what these respective sedans offer and how they differ. While you learned what both vehicles bring to the table, you also saw that the Civic offers a bit more in each of these categories. You can always drop by for a visit to take a closer look at the 2020 Honda Civic—nothing can help fuel your decision better than some experience behind the wheel.
Contact us now to schedule a test drive. We're committed to helping drivers near Santa Ana, Tustin, and Mission Viejo when it's time to find the vehicle that's perfectly suited for them!