Honda Civic Dashboard Light Guide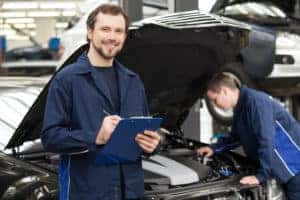 Dashboard lights in your Honda Civic and their meanings can be intimidating for many Anaheim, Lake Forest, and Laguna Beach drivers, especially with so many symbols to deal with. Decoding each symbol can be stressful and can make anyone feel like they're trying to translate a different language.
Fortunately, there's a way to define and simplify everything you need to know about these symbols thanks to this Honda Civic dashboard light guide from Norm Reeves Honda Superstore Irvine.
Indicator Light Overview
The dashboard lights on your Honda Civic are valuable tools that warn you of any automotive problems your car is experiencing. Some symbols are dedicated to alerting you of faulty parts, and others are designed to make you aware of minor issues.
The lights in your vehicle can shine in four different colors. Those that are blue or green are reserved for general information. Ones that glow in orange or red indicate that there's serious damage to your vehicle and action needs to be taken immediately.
Malfunction Symbols
Malfunction symbols illuminate when there's a serious issue with your vehicle's internal systems. They can come on at any time and usually stay lit, even when you're driving. These symbols are some of the most critical ones. Once you see one of these lights on your dashboard, contact Norm Reeves Honda Superstore Irvine immediately to schedule your repair.
Below are some important malfunction indicators you need to keep an eye out for:
Brake Light: the word BRAKE in red and indicates a faulty system or low fluids.
Oil Light: a red oil can that warns you when you need an oil change.
Battery Light: a red battery that means the part isn't charging.
Check Engine Light: an orange engine that signals emission control problems, a loose fuel cap, or a cylinder misfire.
Condition Lights
Condition lights are less serious but still require your attention.
Here are a few common indicators you can see on the dashboard of your Honda Civic:
Maintenance Minder: an orange wrench that notes when you're due for maintenance
Seat Belt: a man with a seat belt in red that lets you konw to buckle up
Low Fuel: a gas station in ornage tht warns you when you don't have enough gas
Low Tire Pressure: an orange exclamation point in a circle that indicates low tire air pressure
The dashboard lights in your Honda Civic are great tools that can help you provide exceptional care when your vehicle needs it most. While understanding their specific warnings can be intimidating, it's incredibly important to know what these lights mean to avoid costly repair bills and a breakdown.
If you're from the Laguna Beach, Lake Forest, or Anaheim communities and want more information regarding this Honda Civic dashboard light guide, call (949) 540-1840 or visit the service department at Norm Reeves Honda Superstore Irvine, 16 Auto Center Dr, and talk to our experts to schedule your appointment and learn more.