Honda Accord Dashboard Lights Irvine, CA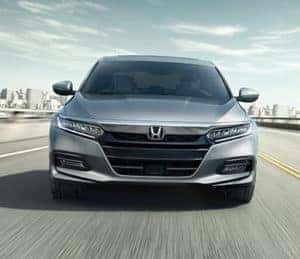 Nothing sends drivers into a frenzy more than the dashboard lights on the Honda Accord. While you can easily recognize the check engine light, trying to understand every other indicator can seem like trying to decipher completely different language.
If you find yourself stressed out trying to figure out the meaning of each dashboard light, relax. Norm Reeves Honda Superstore Irvine is here with your guide to the Honda Accord dashboard lights.
Electronic Power Steering Indicator
The Honda Accord comes equipped with Electronic Power Steering for great control when you travel. A light on the dashboard is dedicated to the status of this feature. It's shaped like a steering wheel with an exclamation point, and when it's lit, it's shines in a golden color.
The second you see this light illuminated, it's best to schedule a service appointment at Norm Reeves Honda Superstore Irvine.
Immobilizer System
Today, multiple vehicles feature impressive security features that help to keep your car safe even when you're away from it, and the Honda Accord is no exception. It comes equipped with an immobilizer system to keep your vehicle in place if someone tries to steal it. A light corresponds to your system to indicate problems or let the criminal know that driving off in your Accord won't happen. The yellow light shaped like a key shows up when the key inserted into the ignition can't be read.
Low Tire Pressure Indicator
It's important to stay on top of your vehicle systems to ensure your vehicle performs well while you're on the road. For those driving the Honda Accord, you'll be able to do just that thanks to the Tire Pressure Monitoring System, which monitors the inflation rates of your tires. When any of them fall too low, an orange light shaped like an exclamation point will illuminate on your dashboard so you know when to fill up your tires with air. To learn more about tire services, visit our tire service page.
Maintenance Minder
Getting regular services for your vehicle can ultimately keep it running like new. For those driving home in the Honda Accord, you'll have a system that routinely reminds you when it's time for a service appointment at Norm Reeves Honda Superstore Irvine. An orange light shaped like a wrench will appear on your dashboard when it's time for a service.
Understanding what each light on the dashboard of your Honda Accord means can be stressful, confusing, and difficult. However, with the guide above, you can easily decode what each one indicates so you know just how well your car is doing.
If you have any questions about the dashboard lights in the Honda Accord or need to schedule a routine service appointment, make it a point to stop by Norm Reeves Honda Superstore Irvine. Our service department is located at 16 Auto Center Dr in Irvine, so if you're in the Laguna Beach, Lake Forest, or Anaheim area, head over and schedule your maintenance appointment today!