Help Your Kids Stay Healthy with the 2020 Kids Run the OC Program

If you are in the Santa Ana, Mission Viejo, and Tustin area, and are looking for ways to make sure your kids are getting exercise and staying healthy this year, you may want to consider signing them up for Kids Run the OC program presented by MemorialCare! This 10-12-week program works to promote staying active, living a healthy lifestyle, and preventing childhood obesity in a fun and unique way.
Kids Run the OC Program Rundown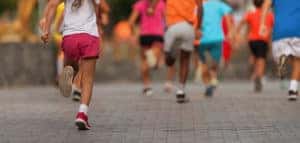 During the weeks of the program, the kids will have to practice before, during and after school in order to accumulate a grand total of 25.2 miles of exercise! Enjoy a friendly competition while feeling your very best, with playful activities instructed by OC marathon certified coaches, that focus on and help improve agility, hand/eye coordination, flexibility and their overall fitness.
Typically, the Spring "Marathon" Program will begin in February and end in May. At the end of the program, the participating children will finish their "final mile" of the marathon with a one mile fun run. The Kids Run the OC also offers a similar program in the Fall, but the children are only training for a half marathon instead of a full marathon during a 6-8 week trial. This program takes place between the months of September and December and ends with the Run for a Claus 5K & 1 Mile presented by Optima Tax Relief which is held at the University of California Irvine campus.
Register for the 2020 Program and Final Mile Run!
In 2019, the program hosted over 9,500 participants from schools all around Orange County CA! The goal for 2020 is to get even more children involved! If this is something your child may be interested in, be sure to sign up for the program and the Kids Run the OC Final Mile event taking place at 8 a.m. on Saturday May 2, 2020 at the Orange County Fair and Event Center, 88 Fair Drive Costa Mesa, Ca 92626.
For more information about the Kids Run the OC program and to register, please check out their Facebook page!