Your Irvine Holiday Guide

Now that the holidays are approaching, it's time to dust off the decorations, get the shopping done, and prepare for the family visits. Of course, during the period of what seems like frantic running around, you'll want to take the time to slow down, relax, and enjoy the holiday spirit!
Luckily, there's plenty of holiday-themed goings-on in the Irvine area that can help you get into the spirit! Here's your Irvine Holiday guide!
Take a Ride on the Christmas Train
Want an express ride to the North Pole? Just buy a ticket! Riding the Christmas Train is a fun activity to do with your family at Irvine Park Railroad! The festive train is decorated with a variety of tinsel and lights and takes a spin through the Tunnel of Lights on the way to Santa's Village in the North Pole. It's also a chance for your little ones to share their list with Santa in hopes that he'll bring it down the chimney this year. The Christmas Train schedule is from November 29th to December 23rd.
Run for a Claus 5K and 1 Mile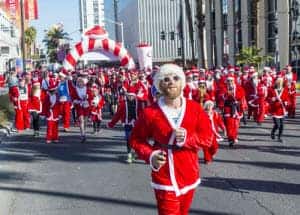 The Run for a Claus event takes place at UC Irvine on December 7th, and it's your chance to test your endurance for a great cause. The proceeds for this event help support the Salvation Army and Kids Run the OC. There are a few different levels to this event, so you can easily sign up and participate regardless of your skillset. The 1-Mile run begins at 8:30 a.m. while the 5K kicks off at 9 a.m. Awards and prizes will be given to finishers!
Christmas at the OC Zoo
Everyone loves the zoo, but how about the zoo all decked out in holiday decorations? This event at the OC Zoo has the animals opening treat-filled gifts, and for the attendees, there's face-painting and fun games. Mr. and Mrs. Claus will be in attendance, so it's a chance for photo opportunities and list-giving!
Want to learn more about some fun holiday events happening around Irvine? Check out the Holiday Happenings at Destination Irvine to see what you and your family can do this holiday season!